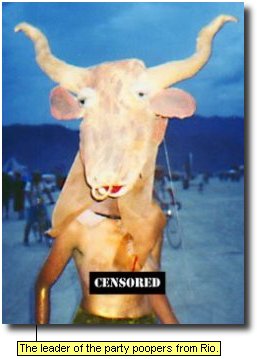 Without a doubt, the greatest Spring Fling in the history of the CCK, as ten fun-filled days in the hot arctic sun came to a blistering end! Country Joe McDonald opened up the 'Fling with a gut wrenching rendition of Georgie Girl. Thousands packed the faculty parking lot for this one folks! And by the time Country Joe was done, there wan't a dry eye around.

Tuesday we staged our beach party and anual nude volleyball tournament. Fortunately for us, Old Lady Kensington didn't show up. Unfortunately, the party was invaded by a group of vacationing cow look-a-likes from Rio. This lead to having to cut the party short. Will they ever learn?

Wait now! Professor Dickie Dumfry came to the rescue and saved the day for us all! The story goes that Dickie had 17 kegs of premium white whiskey flown in from his distillery in Newfieland. Obviously, everyone went on over to Dickie's that night! Way to go Dickie!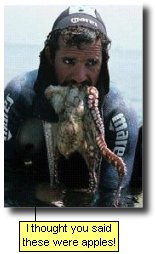 Wednesday was meant to be a day off to recover from the previous nights drink off at Professor Dumfry's but Dickie would have none of it and organized a game of bobbing for octopus. Now, while the party goers were a little hesitant at first, they eventually warmed to the idea. As you can see in the picture, the little buggers sure are a mouthful!

As anticipated on Friday, the Hell's Angels did make an appearance coming all the way from St. Louie De Ha-Ha. We've all imagined the possibilities of the CCK chicks, Biker Babes and leather. Seeing truly is Beleiving! Whoooooo!



On Sunday, the closing ceremonies were held up in Eskimo Point. The spring seal harvest proved to be better than thought as there was an abundance of the ghoulish looking characters in the area. The copious amount allowed everyone the oppurtunity to participate in one of the many games and knock one of the bastards upside the head. Furthermore, in keeping with CCK tradition, a record catch was made that afternoon. Congratulations to all!


In closing, I think there's only one thing left to do; start the countdown on SPRING FLING 2000!