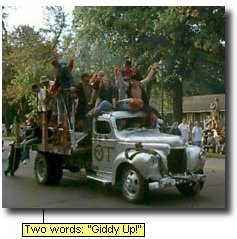 <!write-up> Have you ever wanted the chance to live your life like a real life hobo? Perhaps you've wondered what it would be like living from pogey check to pogey check as an unaware, uneducated bum? Or, maybe you've just always wanted the chance to become a cat lady or bird man and become one with mother nature?

Well, if you've had any thought of these careers before I suggest you jump on the next whore train to the CCK Regional Campus neareset you in bonny Poverty Beach, Prince Edward Island!

You know the the fine people at Poverty Beach have been working around the clock the last few weeks to try to get this campus up and running. While they've encountered many obstacles along the way in the construction, they need your support to make this campus a success. Just three days ago there was an angry backlash from resident hobos for being refused the "free use" of bathroom facilities. The superintendant tried his best to strike up a bargain but the bums just wouldn't agree to the "two sheep to one bum" ratio in the shower stalls. Fortunately after a cooling off period, the bums agreed and a compromise was made where both Hobo and his herd could scrub-a-dub-dub together in peace. As a sort of "thank-you" to the bums for their continued cooperation and support, the faculty and administration threw them a complimentary HOBO PARADE - all was good in Poverty beach again!

Enroll yourelf in one of our fine programs.
Fullfill your dream tomorrow, today!