IN G.O.D. WE TRUST?
Non-Violent Protest Sparks Confusion, Boredom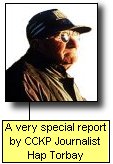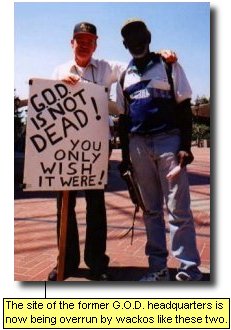 CHURCHILL CAMPUS (CCKP) -- In recent weeks, the CCK's controversial G.O.D. (Genetic Overseer's Department) was set ablaze by an unknown arsonist who was somehow affiliated with the mysterious group known as the C.L.O. (Cresco Liberation Organization). Not much is known about this shady group of characters, but from our limited experience with theirh hijinks, we can say this much -- they're up to no good.

Over the last few days, protestors have begun showing up around the burnt-out hulk of the former G.O.D. H.Q. because of rumours that the Churchill landmark will not be rebuilt. Instead, as the rumour goes, a giant Russian conglomerate is allegedly planning on building a new ultra-low-tech shorts-producing factory in its place.

Of course, all good Chancellor-fearing Churchillians know that every Russian is, at heart, a cold, unfeeling, red commie bastard, who wants nothing else than to quash capitolism at any cost! So we the people shall unite ourselves against the rumored-to-be-coming latter-day Bolsheviks, and not but for the grace of the Chancellor shall these minions of darkness flying the red flag of oppression ever see the green pastures of the great Canadian heartland! Avaust, ye godless knaves of Soviet soil, and thou shalt be warned that thee art better off staying in thy Siberian huts of ice and sod!!! For if thee settest thy foot onto this fairest of the fair continents, ye shall recieve a bloody greeting of which thou shall not soon forget!!!