Unlike other groups, the Genetic Overseer's Department (G.O.D.) can trace it's beginning back to only one man: Dr.Ken. Founded on a principle of "less genetic engineering is not more genetic engineering," Dr. Ken set out on creating a state-of-the-art genetic engineerig facility other educational center's would only kill to have. A vision, which he decided, was his destiny.

What Ken did was nothing short of a miracle. Through persistance and abstinance, he managed to band together the best genetics students the CCK had to offer and in just a few months, the G.O.D was born.

For many years, the facility thrived. Churning out top notch genetic wonders, the CCK nearly became as well known for the G.O.D. as its commitment to providing a total life education.

Everyone will remeber the G.O.D's attempt at breeding genetically altered killer goldfish. Heralded as creating "the ultimate playmate," Dr. Ken and his associates recieved accolades from around the world. Unfortunately, while feeding the fish one day, an attendant accidentally left the trap door open, releasing the fish. This wouldn't have been too bad of a mistake, however, the orange monsters of destruction were in an ocean side fish farm that day. It was later revealed this accident was singlehandly responsible for the decline of the Atlantic Cod Fishery.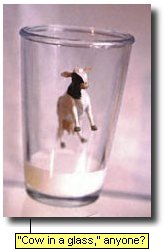 How about the infamous "cow in a glass?" Remember, the mini holstein that not only provided pre-schoolers with wholesome goodness to the very last drop but which also doubbled as a hot commodity on the collectables market. Not only could you milk ol' betsy for all she was worth, but save 'em and trade 'em too! Unfortunately, the novelty of "cow in a glass" ran its course as 586 school kids mysteriously bit the dust. Apparently, some genetic overseer's forgot to oversee the insertion of a special chromosome that would purify the milking process.

The G.O.D. ran into a bit of a problem this past summer though. While its genetic production was steam-rolling ahead in preperation for the new millenium, one of its primary facilities suspiciously burned to the ground. Obviously shocked and unsure of what to do, the G.O.D. temporarily shut down. Fortunately a few weeks later, the G.O.D. reopened, but wth a unique and questionable twist.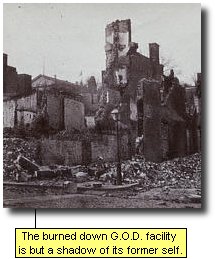 Seeking sollace for what previously transpired, the G.O.D. moved themselves into Chef Tino Conchita's cold and unforgiving Meat Locker. For it was here (across the street from the burned down G.O.D facility) where the party suspected of the arson left its calling card.

Dr. Ken admits it will take a while to rebuild, but is optimistic of his new digs. "Sure it's not 'our' place, but it'll do. And speaking of do, to those responsible for this horrible crime -- and I think we both know who you are -- I'll do you with my uzi! Rot in hell fuckers! Bwahahaahha!"